【CANCELED】Master Class (Issue Certificate)
This event was canceled because of the restriction of the use of the venue by COVID-19.
3-day Master Class for Professionals

   – Issue a certificate of completion –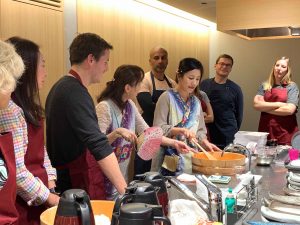 This master class is for professional cooks and advanced level participants. You will be able to learn a lot of Japanese cuisine in 3 days with this program. You can also choose to take the course on a daily basis.
Schedule
May 22 – May 24, 2020
Capacity
8 people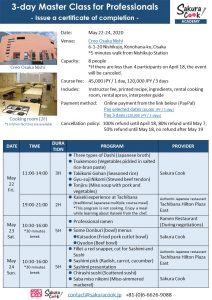 Program  >>See the PDF file for details.
May 22 : Variety of traditional Japanese food, knowledge of Kaiseki cuisine
May 23 : Professional ramen, several Donburi menus
May 24 : Cut raw fish, sashimi, arrange sushi, stewed fish
Booking & Payment
Pay selected dates (45,000 JPY / 1 day),  Pay 3 days (120,000 JPY / 3 days)
Cancellation policy
100% refund until April 18, 80% refund until May 7, 50% refund until May 18, no refund after May 19  *If there are less than 4 participants on April 18, the event will be canceled.
3-day

Live Kitchen Training

   – Issue a certificate of completion –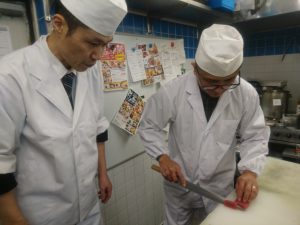 LIVE TRAINING opportunities in the kitchen of a Japanese restaurant. Learn about professional techniques deeply and practice repeatedly. These are special programs for master class.
Schedule
May 25 – May 27, 2020 11:00-14:00
*This class requires norovirus testing in advance. You need to come to Sakura Cook on May 21 and receive a test kit.
Capacity
2 people / each program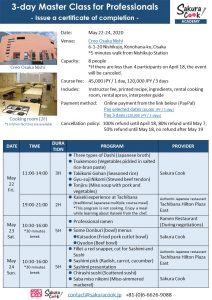 Program  >>See the PDF file for details.
A: Cut some raw fish, learn sashimi presentation techniques, some styles of sushi
B : Make some styles of fried food, learn presentation techniques
C : Traditional Japanese food like dashi roll omelette, simmered vegetable
Booking & Payment
45,000 JPY / 1 person / 1 day,   75,000 JPY / 2 people / 1 day
Norovirus testing 6,000 JPY / 1 person
*Training fees vary depending on the number of participants. Please contact us with your desired dates and programs by April 30. Details will be provided after the fee is determined.
Cancellation policy
100% refund until May 10, 50% refund until May 18, no refund after May 19
Sakura cook  +81-(0)6-6626-9088  contact@sakuracook.jp