Sakura cook gallery 2
2017.08.02
着物姿の美しいこの女性、紫式部です。
Look at this beautiful picture of Lady in Kimono!
She is "Murasaki Shikibu (Lady Murasaki)"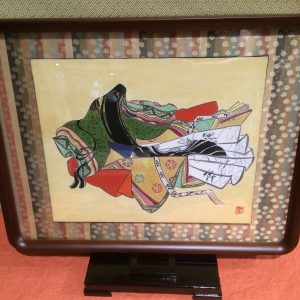 彼女は平安時代の小説家・詩人で、源氏物語の作者として最もよく知られています。
She was a Japanese novelist, poet in the Heian period and best known as the author of The Tale of Genji.
古画構図を基に、着物の色や模様は文献を参考に描かれています。
Based on the old picture composition, the colors and patterns of the kimono were drawn with reference to the literature.
この作品の画家、信田薙佳さんのFacebookページも是非ご覧下さい!
The painter of this "Lady Murasaki" is Ms. Chika Nobuta, and her Facebook page is;
https://www.facebook.com/suiboku21
Please check it up for more arts.
*ご購入希望の方には、販売可能です。
*If you wish to purchase this picture, we can sell it.