Sakura cook gallery 1
2017.07.13
サクラクックでは美しい水墨画を展示しています。
This very beautiful Suibokuga (ink-and-wash painting) is on display at Sakura cook.
料理だけでなく、素晴らしい絵を楽しむこともできます。
Not only cooking but you can also appreciate the wonderful paintings here.
今日は「富貴花」をご紹介します。
Let me introduce "Fuki-flower" today.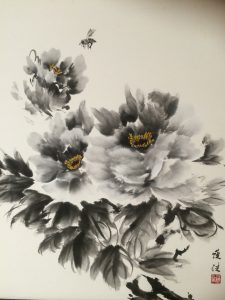 富貴花は中国から伝わって日本でもその豪華さと色艶から花の王として人気の花です。
Fuki-flower become popular as a king of flower in Japan because of its luxury and gorgeous appearance, although has its roots in China.
蜜を抱えた蜂を描くことで、牡丹園の中の一コマを表現しました。
By expressing a bee with honey, it expresses one frame in the peony garden…
この作品の画家、信田薙佳さんのFacebookページも是非ご覧下さい!
The painter of this Suibokuga is Ms. Chika Nobuta, and her Facebook page is;
https://www.facebook.com/suiboku21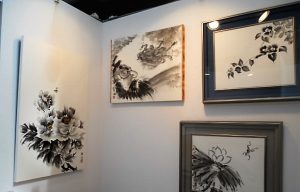 Please check it up for more Suibokuga!
*ご購入希望の方には、販売可能です。
*If you wish to purchase this picture, we can sell it.