Gyoza sisters
2022.11.26
Lovely sisters who visited Japan from the US and the Philippines. They enjoyed a ramen and gyoza class together!
米国とフィリピンから日本を訪問した素敵な姉妹。一緒にラーメンと餃子のクラスを楽しみました!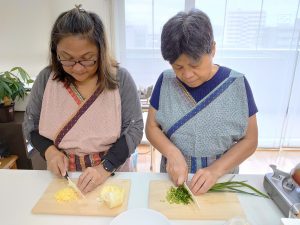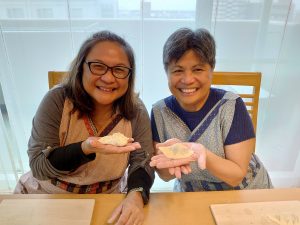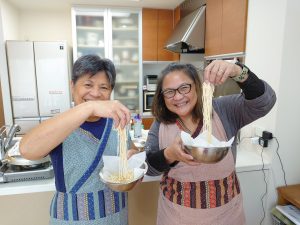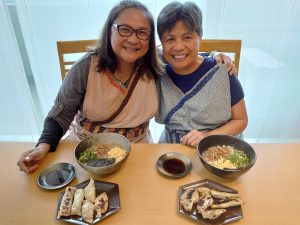 Japanese RAMEN and GYOZA Cooking | VIDEO course
サクラクックのビデオ講座についてご案内しています。この講座は英語(日本語字幕付き)で提供しております。
What you will learn in this course are several types of Japanese Ramen and Gyoza / dumplings. You will make all the dishes from scratch. 
The cooking techniques you will learn in this course are not easy, but after mastering them you will have a great sense of accomplishment. Also, the recipes marked with an asterisk (*) in this course are vegan and vegetarian friendly.
What you learn about Ramen
3 types of noodles (basic Thin straight noodles*, Thin wavy egg noodles, Thick straight black sesame noodles*)
5 kinds of toppings (Char siu /Seasoned cooked pork, Ajitama /Seasoned boiled egg, spicy Ebi /shrimp, boiled Chingensai /Bok choy*, and steamed Yasai /Vegetables*)
3 kinds of broth and soup (soy sauce flavored soup with pork broth, salt flavored soup with shrimp broth, Miso flavored soup with Kombu /kelp broth*)
How to boil the noodles and dish up.
What you learn about Gyoza
Two types of wrappers* (round and rectangular)
Two types of filling (vegetables with pork, vegetables with mushrooms*)
Two ways of folding Gyoza and cooking method.
Tare /dipping sauce
Course Name: Japanese RAMEN and GYOZA Cooking
Course price: 7,800JPY
Click here to register for this course.
We look forward to your course registration! Check out the course introduction video below!
Sakura cook  +81-(0)70-8561-5030 contact@sakuracook.jp
Start ONLINE CLASS!
2020.03.22
Welcome to our ONLINE INTERACTIVE cooking class
Sakura Cook offers a new style of cooking class using the cloud video conferencing system ZOOM. You can learn delicious and healthy Japanese food anywhere in the world.
In this class, you are not just watching a demonstration. You cook with your instructor. Yes, your kitchen and Sakura Cook's kitchen are connected by video and audio!
All you need for ONLINE experience is a smartphone, tablet, or computer with a camera. After you book, simply click on the URL received from Sakura Cook and our class will begin.
What an exciting new cooking class! Let's get started together!
オンライン・インタラクティブ料理教室へようこそ
Sakura Cookは、クラウドビデオ会議システムZOOMを使った新しいスタイルの料理教室を提供します。世界中どこにいても美味しくてヘルシーな和食を学ぶことができます。
このクラスでは単にデモンストレーションを見るのではありません。あなたはインストラクターと一緒に料理をするのです。そう、あなたのキッチンとSakura Cookのキッチンは映像と音声で繋がります!
オンライン体験に必要なのは、スマートフォンかタブレット、カメラ付のパソコン。予約後にSakura Cookから届くURLをクリックするだけで私たちのクラスが始まります。
ワクワクする新しい料理教室!さぁ、一緒に始めましょう!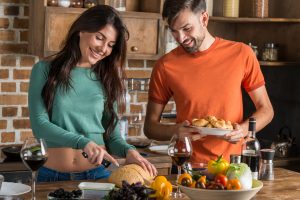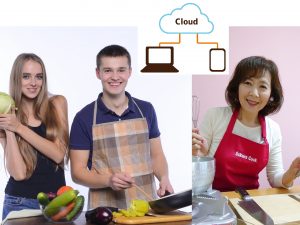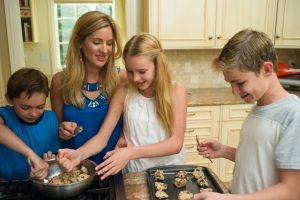 オンラインクラスを予約する/Book ONLINE Classes
Sakura cook  +81-(0)6-6626-9088  contact@sakuracook.jp